Ducati Monster 1100 Wayne Ransom Edition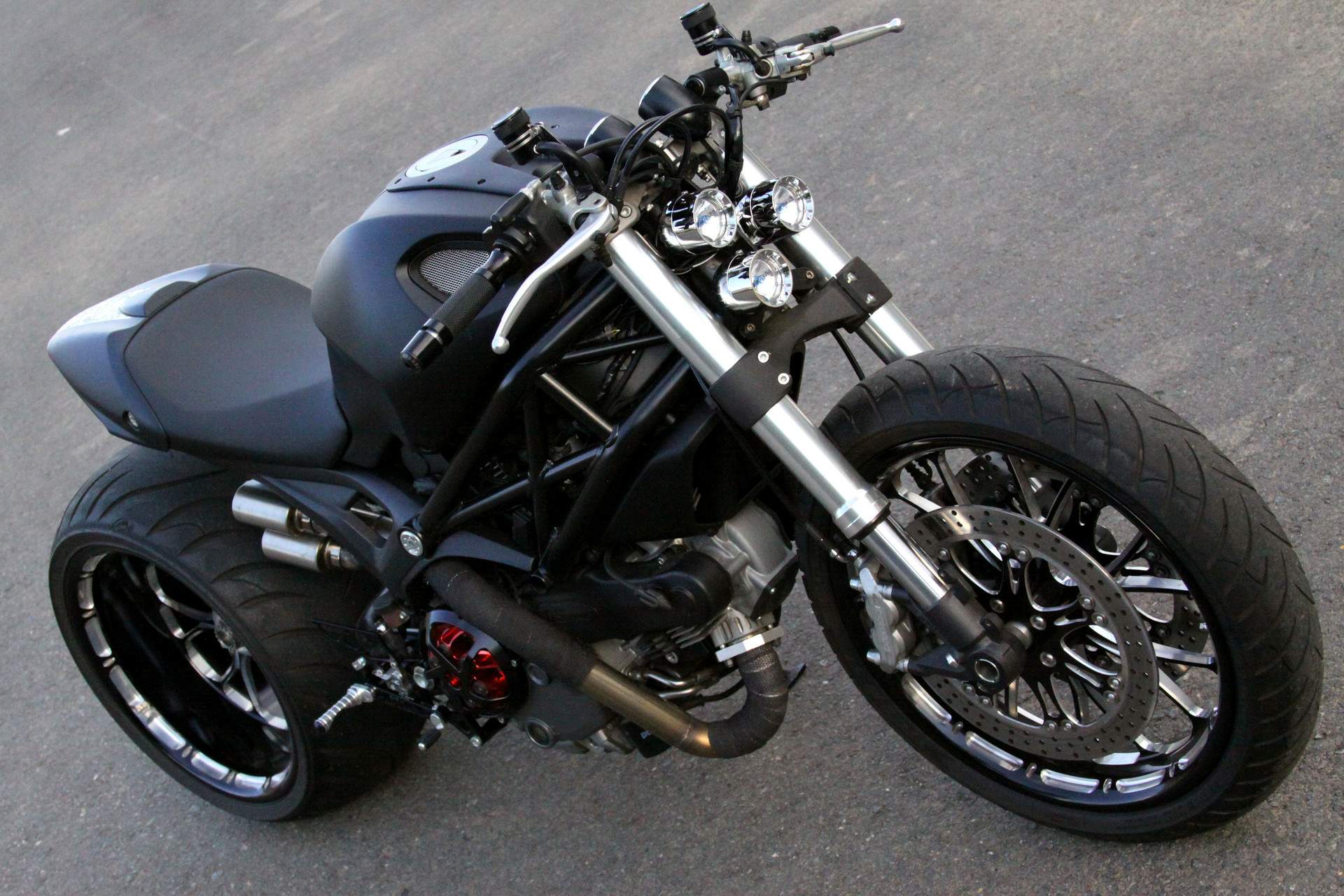 You don't see bikes like this too often. The Japanese brands all chopped and shortened with fat tires, yes, but to take the Ducati as a platform and to build streetfighter machine, you don't see it everyday that's for sure. This amazing looking fatty was built by Ryan Danger (this is the name he goes by in Ducati Comunity) and we must say he done one hell-of-a-job. Taking 2009 Ducati Monster 1100 and reworking much of the parts on the bike is a bold move, while sticking the 300mm rear is a down right sacrilege (for Ducati folks).
It's not a cornering machine, not like the original Monster or Duc 848, and you would say it's pretty loud. Check out those shortened exhausts – "tire warmers" :) .
The sound is enough to make you deaf after an hour of riding…with your earplugs on. Ryan particularly love to pull next to the Harley boys and crank that throttle wide open, just to let them know that Duc can play that game as well.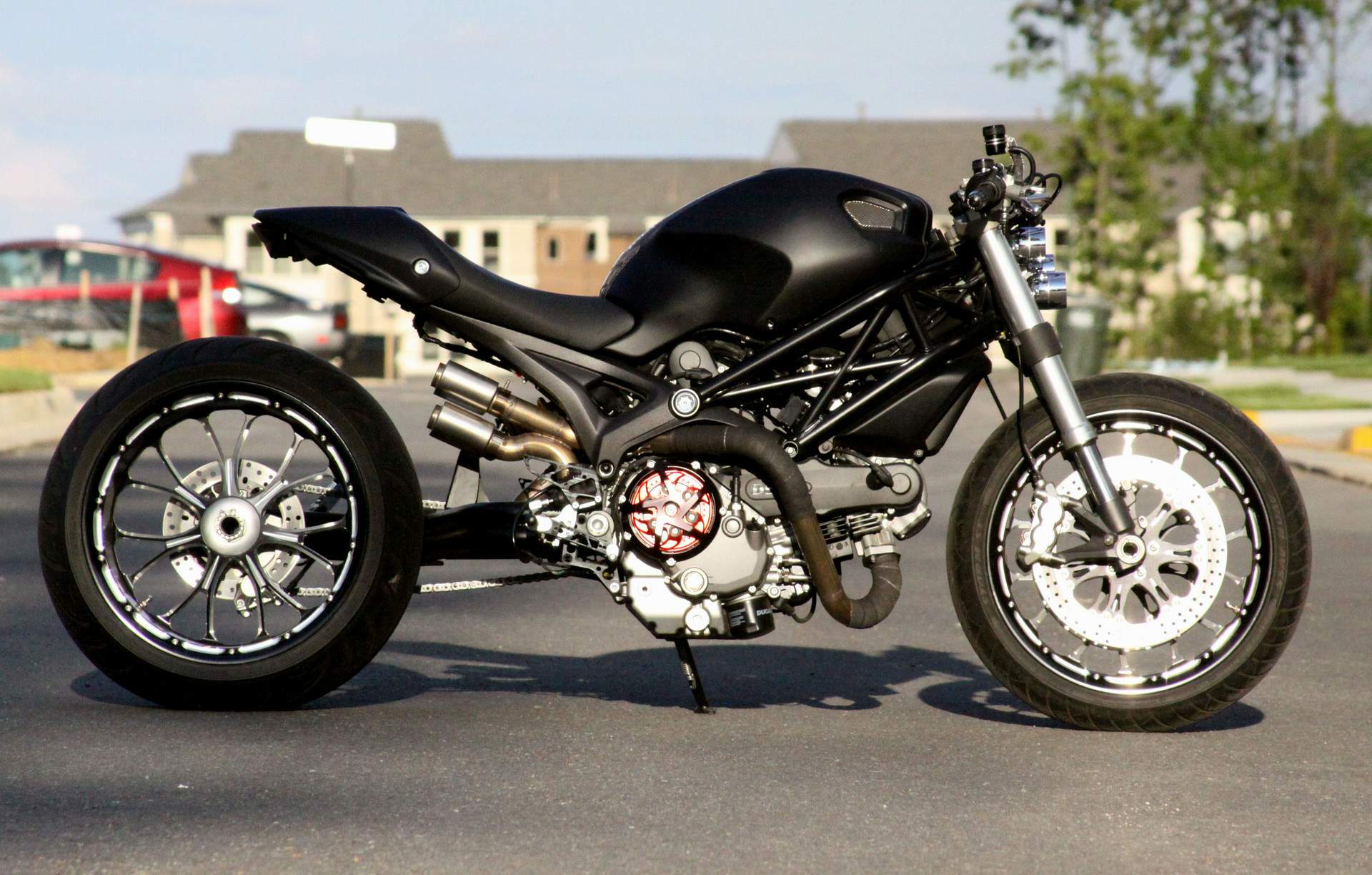 - Ransom one-off tubular hand-made single-sided swing arm
- Ransom one-off, offset-drive with carrier bearing support (NO JACKSHAFT)
- Ransom one-off hand-made stainless steel exhaust with re-buildable exhaust canisters
- Ransom one-off hand-made-gauge pods
- Ransom one-off hand made-headlight bracket
- PIAA Custom Headlight setup – 2 low-1 high
- PM Heathen contrast cut wheels – 18 inch F/R – 300mm R
- Heathen contrast cut brake rotors (Front- w/ Stock Brembo calipers)
- Dakota Gauges (Digital) (Stock gauges- relocated to rear- under seat)
- Rizoma Bar ends and grips
- Rizoma Gas Cap
- Woodcraft 2 Piece split clip-ons
- Upgraded Brake lines
- Upgraded Brake and Clutch Reservoirs with custom mounts
- Speedy Moto Clutch Cover
- Speedy Moto Pressure Plate
- CNC Adjustable Rear Sets
- CNC Racing Oil Plug Thumb Screw
- CNC Racing Flange Nuts
- CNC Racing Rear Brake Reservoir Cover
- CNC racing Alternator Cover Type 2
- AEM Sprocket Carrier Cover
- Bitubo Steering Damper (Frame Mounted)
- Power Commander V
- K&N Filters
- Custom coated spring (Stock suspension)
- Custom license plate bracket and mount

Specs for the Paint –
- Ryan Danger custom paint scheme- Acrylic and Ink with clear coat –over a custom matte black finish
(The design was made to reflect on the tattoo life-style look while integrating Ducati throughout. I did the design freehand using acrylic and ink)

Source bikerscafeblog