| | |
| --- | --- |
| Make Model | Sunglas 500 S2 |
| Year | 1978-79 |
| Engine | Single cylinder, 4-stroke, 2 valves |
| Capacity | 497 cc / 30.3 cu in |
| Bore x Stroke | 89.5 x 79 mm |
| Compression Ratio | 9.2:1 |
| Cooling System | Air cooled |
| Induction | Carburetor |
| Ignition | Electronic |
| Starting | Electric and kick |
| Max Power | 27 kW / 36 hp @ 5930 rpm |
| Clutch | Multi-plate in oil bath |
| Transmission | 4-Speed |
| Final Drive | Chain |
| Frame | Tubular steel |
| Front Suspension | Telescopic forks |
| Rear Suspension | Swingarm, dual shocks |
| Front Brakes | 2 x Discs |
| Rear Brakes | Single disc |
| Front Tyre | 3.25-18 |
| Rear Tyre | 3.50-18 |
| Dimensions | Length: 2120 mm / 83.5 in |
| Seat Height | 800 mm / 31.5 in |
| Wet Weight | 202 kg / 445 lbs |
| Fuel Capacity | 18 L / 4.8 US gal / 4.0 Imp gal |
| Top Speed (estimated) | 140 km/h / 87 mph |
| Source and Pictures | Wikipedia / Fuchs Motorrad / 35razones |
| Review | Motorbike Search Engine |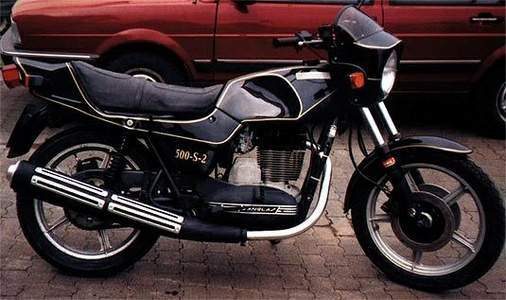 Sanglas was a Spanish producer for motorcycles. They built motorcycles for the Spanish police and for the Irish army.
In 1976 the model 500S model is released, with (Sanglas concept) disc brakes and 32 HP at 6,700 rpm.
The 500S model resulted in an increase in sales abroad with the financial help of the Prodinsa company, which also owned shares in the company Mototrans (manufacturer under license from the Italian brand Ducati motorcycles), which led attempts to merge both companies.
Review
As far as appearance goes, the Sanglas doesn't seem to know quite what it wants to look like. The traditional lines of the engine match the beautiful sweep of the front exhaust pipe to perfection: there's a classic beauty about it. Then, abruptly, the modern, black-painted, heavy-looking silencer goes and spoils it all. Likewise the glass-fibre box moulding at the back of the seat, while providing a usef u\ attachment for grab-rails either side and a drop-down carrier, and offering space inside for your sandwiches, is heavy and ponderous-looking.
But there's no denying the attraction of the Sanglas engine. Old-fashioned maybe, but it still gives almost as much power as the Yamaha single, and is so delightfully easy to ride it's relaxing therapy. Instrument console looked smart, but needles wavered around.
You need to look at the rev counter all the time: you can feel when it's time to change up a gear by the vibrations. Just as well, because the Spanish instruments were not that accurate and tended to waver about quite a lot.
The motor looks and feels like an old Matchless single: in fact if Matchless had kept going they'd probably be making bikes very much like the Sanglas today. The gearbox was always easy to use, with smooth changes both upward and downward. But it's no use trying to ride the Sanglas like your average Japanese rocketship. Trying to crack through the gears for standing quarter-miles was frustrating because the clutch had a delayed-action effect, and at first the revs would rise with no matching gain in speed. It's a gentlemanly bike which needs to be treated in a gentlemanly fashion.
In one department the Sanglas was head and shoulders above the old British bikes: no oil-leaks at all. Throughout the test the motor stayed clean: what a pity the rather rough-looking sand-cast casings couldn't be polished up bright.
And who says you can't fit a starter-motor to a single? The Sanglas item, its mounting redesigned for extra strength and durability, was faultless. Although a valve-lifter is situated beneath the clutch lever for kick-start fanatics. I never used it for starting. I simply pressed the button and after a couple of chuffs it fired up every time. The silencer might look ungainly, but it's extremely efficient, muffling the big single's boom to perfection.
Telesco shocks worked well, but rear brake wasn't so good. The short, stubby handlebars lurk behind the neat-looking flyscreen cockpit moulding, and the matching speedo and rev-counter are laid out Japanese-style with a row of warning lights for indicators, lights, flashers, electrics and oil between them. The oil light never stopped flashing intermittently at very low revs, although the oil was topped-up.
The dual seat is comfortable and well-padded. To raise it, a key is inserted into the side of the seat itself. Beneath, the electrics are logically laid out and easily accessible, probably the result of lessons learned with countless police bikes.
For a modest power-output at the rear wheel of only 25bhp, the Sanglas is incredibly well braked. The patented front twin-disc gave instant stopping power, the hefty-looking Telesco front forks pitching smoothly downwards as the tyre squealed to a halt. The Sanglas features a third disc brake on the back wheel, although for some reason ours was almost useless, needing a tot of lever pressure before anything happened. I'm sure this was just a maverick, because the front ones were superb.
Suspension is well complemented by the Telesco rear units, with adjustable preload and Hydrabag reservoirs. Although the suspension mopped up big bumps excellently, there was a rather remote feel to the front units, and not a lot of feedback to the rider.
The very upright riding position probably has something to do with police bike practice, too. For a rider of my size, everything fell to hand very easily and the over-riding impression of the S2 was of a very easy machine to ride. It doesn't require a great deal of thought from the rider, allowing him to concentrate all the more on important things, like the road ahead.
The speedometer, as already mentioned, was not very accurate. At an indicated 50mph the electronically-timed speed was only 43.18. At the machine's top recorded speed of 91.15mph, the speedo was indicating 105mph.
The slow clutch action didn't help the standing start quarter-mile speeds, and the best the Sanglas could do was 16.53 sec with a terminal speed of 78.26mph.
The Sanglas leaflet says the tyres are Michelin M38s-3.25 x 18 front and 3.50 x 18 rear. But ours were definitely Dunlop. They performed adequately, although the front •vre had been fitted the wrong way round.
What a thumper! The Sanglas almost has an old British look.
This did not affect roadholding to any great extent. We simply checked more often to make sure nothing was breaking up. A big single always vibrates, but the only annoying Sanglas vibes came from the fuel tank, while one of the rear indicators worked loose on its mountings.
Handlebar controls are novel although fairly straight-forward. On the left-hand side is the parking and headlight switch, dip and flash switch and horn; on the right the starter button, kill button and indicator switch.
Engine-wise, nothing is very sensational: just a continuation of long-proven ideas for simplicity and longevity. The cast-alloy cylinder head is fitted with bronze valve-guides and inlet valve seating, and the redesigned crankshaft assembly is fed by a high-pressure oil pump. There is also a primary drive shock-absorber. At the end of the test I was left with mixed feelings about the Sanglas. Instead of trying to emulate more modern machinery, I'm sure it would be a good idea if a high-performance version were available, with a sportier exhaust crackle, spoked wheels and alloy rims, drop bars and rather less of the glass-fibre clutter. In other words, it wants to look more like a Cold Star or Thruxton Velo.