Yamaha 125 & 250 V-Four cylinder 1968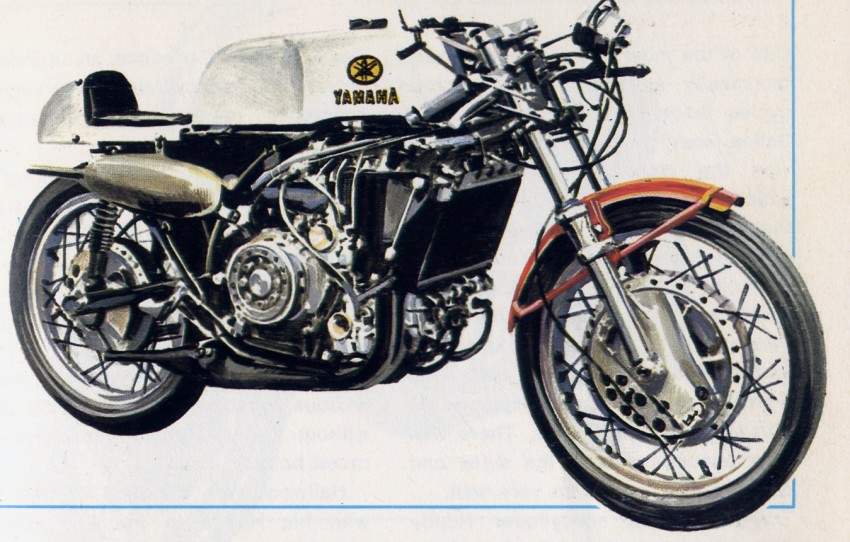 Yamaha 125 & 250 V-Four cylinder 1968
The Honda six-cylinder made its debut at Monza in September, 1964. The motorcycle had been designed to make life difficult for the Yamaha 250 RD 56.
The 250 RD 56 had four fewer cylinders, but in the able hands of Phil Read it had outdistanced Jim Redman with his Honda. Nevertheless it was clear that a tougher driver with an improved six-cylinder would lead the field the following year. So the Yamaha company built a four-cylinder 250 but kept it a secret almost until its first appearance, which co-incidentally took place at Monza in 1965.
Yamaha was unlucky at Monza. Rain poured down relentlessly, and the new two-stroke engine had a lot of trouble with carburetion.
So it was all off for Yamaha until the 1966 season. Despite the engine's remarkable power, Read never managed to get the most out of it because of serious problems involving maneuverability and weight. He was the eternal second in 1966. In 1967 Read and Yamaha had their first wins, and so did teammate Bill Ivy. The four-cylinder Yamaha was the fastest 250 that had ever appeared on a track, but it was not yet the most competitive vehicle in its class.
But in 1968 the Yamaha came into its own. That year Mike Hailwood and Ralph Bryans with their Hondas—no longer the frightening machines they had once been—had to step aside for Phil Read. All he had to do with his over-60-h.p. Yamaha was beat Ivy.
Then the FIM decided to limit 125-cc. and 250-cc. engines to two cylinders, and Yamaha made the first of several withdrawals from racing. At the time the four-cylinder 250 was the most advanced racing motorcycle around. That year's model weighed some twenty pounds less than the prototype that had debuted at Monza and had a little more horsepower. It could go extremely fast for a 250. In a clocked leg of the Tourist Trophy it had run at some 150 m.p.h., which meant that it could go even faster in other conditions. This made it competitive with some of the finest 500-cc. motorcycles.
In 1967 Yamaha developed a 125-cc. model from the four-cylinder 250. The 125 was designed to replace the two-cylinder RA 97, which had won several Grand Prix races in 1966 but had failed to take the world title.
It was a daring job for two reasons: Nobody before had tried to build a four-cylinder, two-stroke 125, and nobody before had derived a small vehicle from a larger one, but rather the reverse.
The four-cylinder 125 was water-cooled and used rotating-disk distribution. It generated 35 h.p. at 18,000 r.p.m. in the prototype. And it seemed to be a sound racer. Bill Ivy rode this first model to win the 1967 world championship.
Despite the superiority of the four-cylinder 125, the Yamaha people were fully aware of the threat of the five-cylinder Honda 125's return, and they had heard talk about a six-cylinder version. The Yamaha technicians worked hard on the engine and managed to get another 7 h.p. out of it. Read and Ivy had a pair of two-wheelers that could deliver really exceptional acceleration and speed for their size. The 125 became a bone of contention within the Yamaha team. Read had never managed to ride the 250 to victory over Hail-wood's six-cylinder Honda, and Ivy kidded him about it. Read won in the 250 class in 1968 and decided to go after the title earmarked for Ivy as well. Phil Read succeeded, winning the championship with the four-cylinder Yamaha. He was dismissed from the team at the end of the season
Motorcycle: Yamaha 125-250 Four-cylinder
Manufacturer: Yamaha Motor Co. Ltd.,
Iwata Type: Racing Year: 1968
Engine: Yamaha four-cylinder in two pairs, longitudinal V at about 90°. Two-stroke cycle with distribution through four rotating disks. Displacement 124.6 cc. (35 mm. x 32.4 mm.— 125); 246.3 cc. (44 mm. x 40.5 mm.— 250)
Cooling: Water
Transmission: Nine-speed block (125);
eight-speed block (250) Power: About 42 h.p. at 17,000 r.p.m.
(125); about 70 h.p. at 14,400 r.p.m.
(250)
Maximum speed: Over 135 m.p.h. (125); over 155 m.p.h. (250)
Chassis: Double cradle, continuous, tubular. Front and rear, telescopic suspension
Brakes: Front, central drum, four shoes, four-cam; rear, central drum, double cam