Moto Guzzi 500 Single-cylinder Gran Premio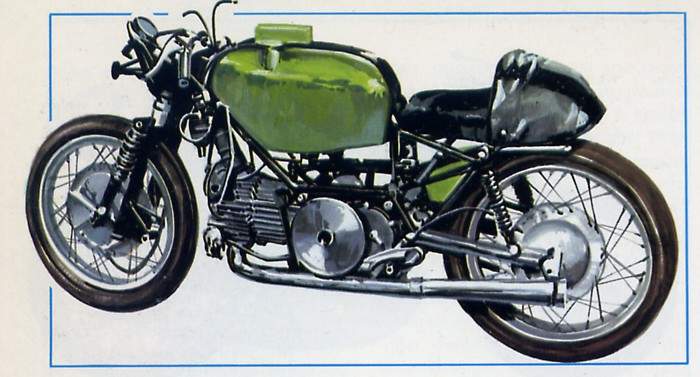 Moto Guzzi withdrew from motorcycle racing in 1957. Unlike Mondial and Gilera, the other two signatories to the "abstention pact," Moto Guzzi never raced officially after that.
Many people believe that the last racing motorcycle built by the Guzzi company was the much-discussed 500 8 V model. Actually the last Guzzi racing motorcycle was a 500 two-shaft single-cylinder that had been built especially to back up the eight-cylinder in case that vehicle failed to overcome problems on mixed tracks.
The Moto Guzzi 500 8 V proved to be up to the competition and capable of handling tight curves. So the new single-cylinder was retired.
In 1966 Giuseppe Mandolini, who rode Moto Guzzi motorcycles privately, persuaded the Guzzi company to let him borrow the 500 single-cylinder for the Italian championship season. The vehicle had never been raced before. With a 1966 regulation carburetor, the veteran motorcycle proved to be outstanding. It came in third at Riccione. The Guzzi single-cylinder lagged behind the advanced colossuses put in the field by Gilera and MV, but it came in ahead of the Aermacchis and the Nortons.
Motorcycle: Moto Guzzi 500 Single-cylinder Gran Premio
Manufacturer: Moto Guzzi, Mandello del Lario
Type: Racing
Year: 1966 (built in 1957)
Engine: Guzzi single-cylinder, horizontal, four-stroke, with two-shaft overhead distribution and bevel gear shaft. Displacement 498.7 cc. (84 mm. x 90 mm.)
Cooling: Air
Transmission: Five-speed block
Power: 47 h.p. at 7,000 r.p.m.
Maximum speed: Over 140 m.p.h.
Chassis: Openwork, tubular, engine suspended. Front and rear, telescopic suspension
Brakes: Front, central drum, four shoes; rear, central drum