Honda RC174 350 Six-cylinder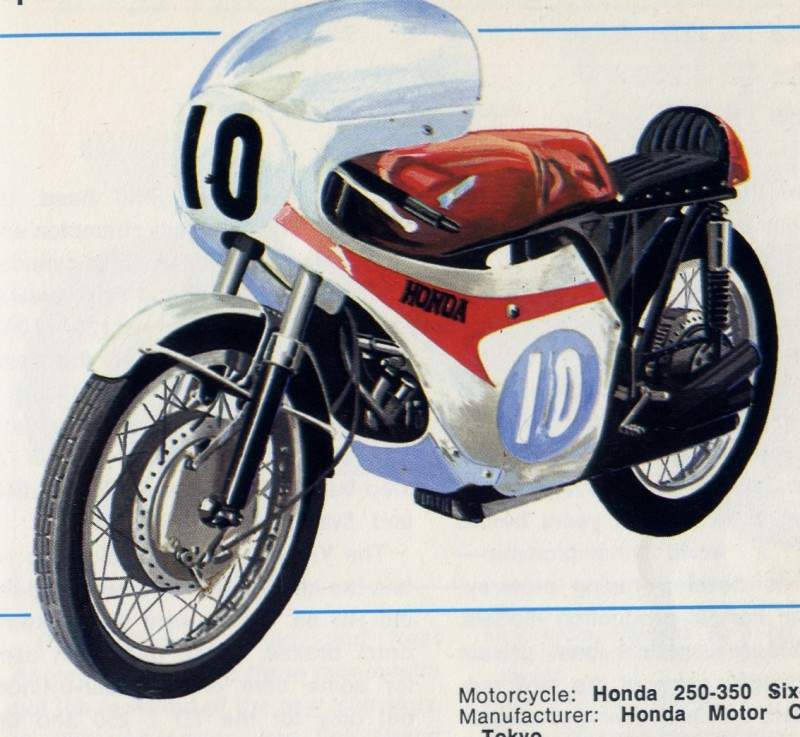 One of the most interesting and most technically advanced racing motorcycles made its debut at the 1964 Italian Grand Prix, run at Monza. This was the Honda six-cylinder 250, which was built to put a stop to the ever-increasing victories of the rotating-disk-distribution Yamaha.
Honda was a staunch supporter of the four-stroke engine, but the Japanese company had much experience in two-stroke engines as well. This time it broke down the displacement into six flanked cylinders. There was little encumbrance at the sides and the motorcycle held up very well.
Although the six-cylinder Honda 250 did not win the championship in 1965, it was able to put up such a tough fight against the two-cylinder Yamaha, which was ridden by Phil Read and Mike Duff, that a year later
Yamaha had to produce an updated two-stroke, four-cylinder motorcycle, built solely to stand up to the competition from the Honda.
Yamaha's move was not enough, however. Honda put a stronger six-cylinder into the field in 1966, along with a racer who could get all that was humanly possible—and maybe more—out of the engine.
That man was Mike Hailwood. Standing at the peak of his career, Hailwood was anxious to show what he could do without the MV Agusta that he had raced before.
Hailwood won the 1966 world title with his Honda in the 250 class, winning every race he entered. He won again in 1967, but only after a theoretical tie breaker with Read and his Yamaha.
In 1967 Honda gave Hailwood a version of the six-cylinder that had been increased to 297 cc. for racing in the 350 class. The new vehicle's first race took place at Hockenheim, Germany, and it came in first. It went on to win the world title that year. At the opening of the 1969 season Honda announced its official withdrawal from speed racing.
Thus the two versions of the Honda six-cylinder, the 250-cc. and the 350-cc, like so many other sporting champions, withdrew at the peak of their achievement. It was a disappointment to racing fans, many of whom went to races just to see Hailwood and the six-cylinder. Some fans even tape-recorded the sound of the six-cylinder so they could listen to it at home.
(250); r.p.m. r.p.m .
When the Honda six-cylinder—a real masterpiece—ended its career, so did "Mike the Bike" Hailwood, one of the finest champions in the sport.

Motorcycle: Honda 250-350 Six-cylinder Manufacturer: Honda Motor Co. Ltd.,
Tokyo Type: Racing Year: 1969
Engine: Honda six-cylinder, flanked, facing forward, four-stroke, with two-shaft overhead valve distribution, gear-operated, and four valves per cylinder. Displacement 247.2 cc. (39 mm. x 34.5 mm.—250); 297 cc. (41 mm. x 37.5 mm. —350)
Cooling: Air
Transmission: Seven-speed block
six-speed block (350) Power: About 60 h.p. at 18,000
(250); about 65 h.p. at 17,000
(350)
Maximum speed: Over 150 m.p.h. (250); about 160 m.p.h. (350)
Chassis: Double cradle, tubular, open below. Front and rear, telescopic suspension
Brakes: Front and rear, central drum, double cam