Honda 125 Five-cylinder 1966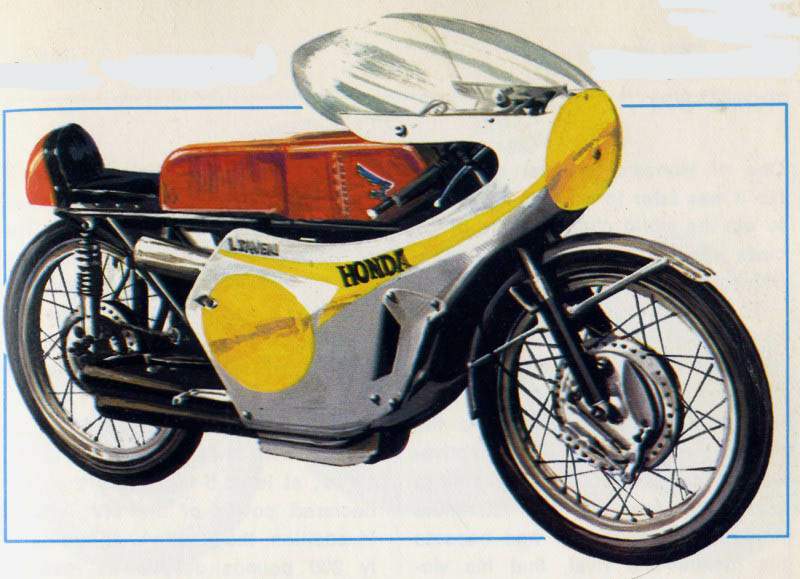 During the 1965 racing season it became clear that the Suzuki 125 RT 64 A two-cylinder engine, with rotating disks, was much more powerful than the four-cylinder engine of the Honda 2 RC 146, which was then reigning world champion. The Honda people realized this at the beginning of the season, and they faced up to the fact by putting aside the old model and getting to work on a motorcycle that offered something totally new technically.
The result of all that hard work appeared at the 1965 Japanese Grand Prix. It was a four-stroke 125 with five cylinders in line, transverse. The distribution, lubrication, and ignition systems were not substantially altered. The central exhaust tube passed under the others and then emerged under the saddle. Two cooling radiators were mounted on the lubricating circuit, housed inside the fairing.
In 1966 the Honda 125 five-cylinder proved to be the fastest 125 that had ever entered world championship racing, and the championship was hotly contested that year. Suzuki was the reigning champion and Yamaha had its new RA 97 in the field, but Honda won the 125 title with its new motorcycle.
Motorcycle: Honda 125 Five-cylinder Manufacturer: Honda Motor Co. Ltd.,
Tokyo Type: Racing Year: 1966
Engine: Honda live-cylinder, four-stroke, with two-shaft overhead geared distribution and four valves per cylinder. Displacement 124.8 cc. (33 mm. x 29.2 mm.)
Cooling: Air
Transmission: Eight-speed block Power: 30 h.p. at 18,000 r.p.m. Maximum speed: Over 135 m.p.h. Chassis: Double cradle above, tubular,
engine suspended. Front and rear,
telescopic suspension Brakes: Front, central drum, four shoes,
four-cam; rear, central drum, double
cam