Brough Superior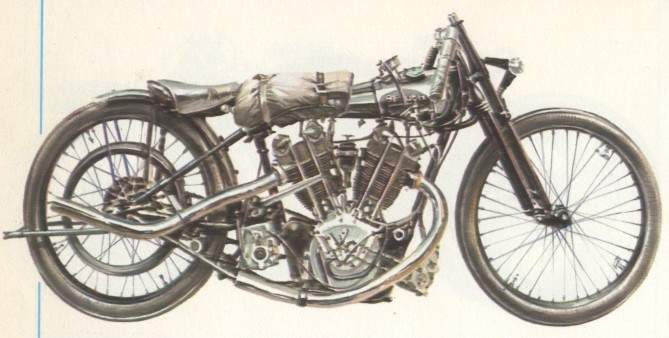 Brough Superior JAP 1924
In the 1920s and 1930s the JAP engine was one of the finest motorcycle engines on the market. Its leading competitors were the Swiss MAG engine, built by Motosacoche, and the British Anzani engine.
JAP engines powered the most technologically advanced British motorcycles. Private builders tuned JAP engines and mounted them on special chassis to compete in the weekly races at Brooklands and in record runs.
Early in the 1920s Herbert Le Vack was one of the leading British motorcycle racers. His specialties were large-cylinder motorcycles and track racing. Employed by JAP, Le Vack had an intimate knowledge of the two-cylinder V engine, which had powered several of the motorcycles he had raced.
In 1923 Le Vack achieved some outstanding wins with a Zenith-JAP. The following year the 1,000-cc. engine was mounted on a Brough Superior built for speed records.
On April 27, 1924, Le Vack rode his Brough Superior along a forest straightaway at Senart, France, where he set a record for the flying kilometer of 182.82 km./hr. (about 114 m.p.h.). On July 6 he was at Arpajon, France, where he set a new world record, of 191.59 km./hr. (119 m.p.h.). Le Vack also set a record for a motorcycle with sidecar of almost 100 m.p.h.
Motorcycle: Brough Superior-JAP Manufacturer: George Brough, Nottingham
Type: Racing and world record Year: 1924
Engine: JAP two-cylinder V, four-stroke, overhead valve distribution, rod and rocker. Displacement 995.2 cc. (80 mm. x 99 mm.)
Cooling: Air
Transmission: Three-speed separate Power: About 50 h.p. Maximum speed: About 120 m.p.h. Chassis: Single cradle, tubular, open below. Front, elastic suspension Brakes: Rear, pulley wedge
Brough Superior 1000 1930-39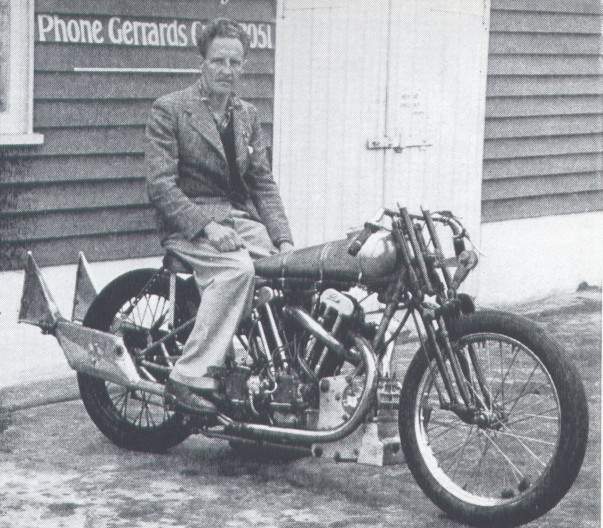 Brooklands is now but a memory to some motorcyclists—and only a legend to the vast majority who, like the author, have never seen a race meeting there. The famous concrete bowl at Weybridge, Surrey, was responsible for a lot of development of British machines—and also responsible for the development of a lot of mounts designed just for record breaking.
The outer circuit lap record was, of course, the "ultimate" for a small band of riders, headed by Noel Pope, in the immediate pre-war years. He acquired a very famous Brough Superior, a "blown" 1,000 c.c. monster built at the end of 1930 for E. C. E. Baragwanath who then won innumerable events with it in sidecar trim. When "Barry" used it an "8-50" model J.A.P. engine was employed, with one exhaust port facing forwards and one back, at that time the latest product of the J.A.P. factory at Tottenham.
Pope dispensed with the sidecar, swopped the engine for an "8-80" type (both were 80 mm. x 99 mm. o.h.v. 998 c.c. Vee-twins) that in unblown form produced about 80 b.h.p. With the blower on he had a fantastically quick device, and on July 4, 1939, he took his rigid framed monster round to record 124-51 m.p.h.—destined to be the fastest ever two-wheeler lap of the track. He was timed at 137 m.p.h. over a flying half-mile, a truly remarkable performance in view of the track's extremely bumpy surface.
The machine still exists today, in the hands of Vintage Club Founder C. E. Allen, who has rebuilt it to the trim in which "Barry" first made it—when it would do over the 100 m.p.h. mark, with sidecar!
SPECIFICATION
Engine: 50° Vee-twin J.A.P. type "8-80" 1,000 c.c.
o.h.v.; chain-driven supercharger in front of
crankcase; pushrod valve operation. Ignition: two twin-spark magnetos. Transmission: chain drive via three-speed Sturmey
Archer gearbox. Frame: single down-tube cradle; no rear springing. Forks: Castle bottom-link.