Make Model

Van Veen OCR 1000

Year

197

5

Engine

Liquid/oil cooled, twin rotor rotary

Capacity

2x 498, 996

Bore x Stroke

Compression Ratio

9.0:1

Induction

32mm Solex carb

Ignition / Starting

Borsch Jaeger/Hartig electronic / electric

Max Power

100 hp @ 6000 rpm

Max Torque

Transmission / Drive

4 Speed / shaft

Front Suspension

Tubular double cradle

Rear Suspension

Telescopic forks

Front Brakes

Dual gas shocks swingarm

Rear Brakes

2x 280mm discs

Front Tyre

Single 280mm disc

Rear Tyre

3.50-18

Dry-Weight

4.25-18

Fuel Capacity

291 kg

Fuel Capacity

18.2 Litres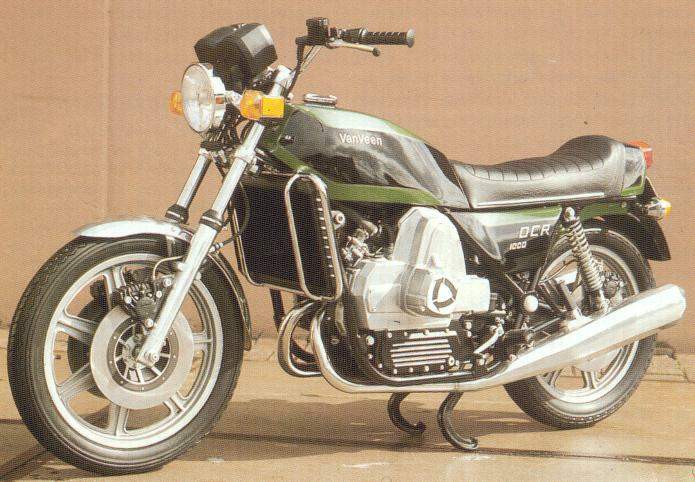 Henk van Veen first came to the notice of the motor cycling press when he built the tiny Kreidler-engined racer on which fellow Dutchman Henk van Kessel won the 50cc world title in 1972. He followed this up by shoehorning a wankel-type Mazda car engine into a Moto Guzzi frame and proclaiming that he wanted to put such a bike into production. If that doesn't sound like a logical proposition it is probably because van Veen doesn't always do things logically. He does like to do things properly, however; indeed, Henk van Veen is a man driven by a dream to create the world's most perfect motor cycle.
The Mazda-engined van Veen made its appearance around 1972 and development continued for a couple of years. Somewhere along the line the Mazda engine was dropped and in 1974, at the Cologne Show, a new limited production model known as the OCR1000 made its debut.
The OCR1000 was a fascinating machine. It used a double rotor Wankel-type engine developed by van Veen in conjunction with the French Citroen-
owned company, Comotor. Each rotor swept a volume of 498cc giving the engine a total displacement of 996cc. Perhaps the most impressive statistic, however, was the Van Veen's power output 100 bhp at 6500 rpm. A top speed of 150 mph was claimed, but it was not the ourtright performance of which van Veen was most proud. His ambition was to create a quality machine the ultimate superbike and the OCR1000 was certainly that. The machines were virtually hand made and as a result they were remarkably well finished and frighteningly expensive to buy.
The frame of the big OCR was designed by Jaap Voskamp while the front forks and rear suspension were both the work of the Koni company. Another interesting feature of the bike was that the gearbox and drive shaft had been developed in conjunction with the famed Porsche car company of Stuttgart. To stop the machine, which weighed a colossal 700 lb plus, twin Brembo discs were used at the front, while a single disc was used at the rear.
Van Veen's dream to create the ultimate superbike meant that the machine was costly to produce. By 1977, an OCR1000 cost about £5500 in Britain a price that escalated to around £7000 only a year later. Van Veen refused to compromise, however, and the OCR 1000 became a much coveted status symbol.
Most riders who bought van Veens, however, didn't but buy them solely as status symbols. Like van Veen they sought the best in motor cycling and if it cost a fortune to attain perfection then so be it.
Very few OCR 1000 models ever found their way into the hands of press road testers but those that did obviously left a vivid impression. The huge power output of the rotary engine meant that opening the throttle wide was a startlingly impressive undertaking, 125mph from a standstill in just 16 seconds. The claimed top speed of 150 mph usually proved to be an exaggeration, but more than one test rider saw 135 mph on the clock. The most impressive sensation, however, was the smooth and certain way the OCR1000 would pull from walking speed in almost any gear.
Sadly in the end the economics of producing such a machine proved too much for Henk van Veen's little factory and, at the beginning of 1979, the company announced that no more of the glorious OCRs would be built. By this stage van Veen was quoting a British price of £10,000 for his machine and at that rate there were few takers. This was one dream machine that the public simply could no longer afford to buy.
Only a handful of OCR1000s were ever made and these will pass into history as some of the most expensive classics ever made. For those fortunate few who owned OCRs the brief taste of something special will live in their memories for ever and only they will ever know whether the OCR really was a dream come true or simply a very costly nightmare.